How you price your storage units can make or break your facility's bottom line. While most operators don't depend on a revenue management system to adjust rates for them, tools like OPTIMIZE can help make rate adjustments a breeze. Here are three tools within OPTIMIZE to help you generate more revenue:
1. Competitor Overview: Know Your Competitors and What They're Offering
You're a self-storage operator. You're very familiar with your competition. But do you understand their pricing strategies? Most importantly, do you know how these impact your business?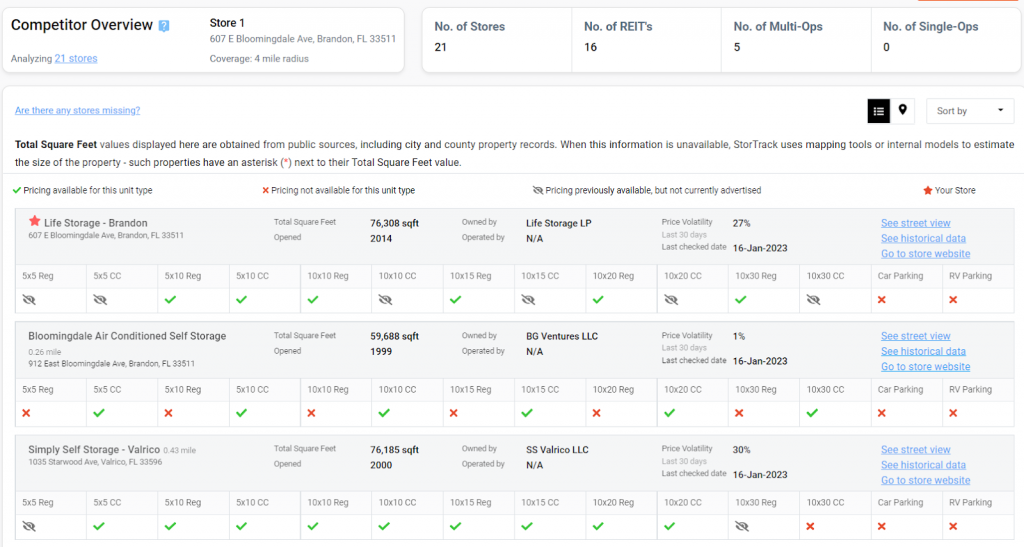 With OPTIMIZE you get a full bird's eye view of your local market along with information that is not generally available by tracking it manually. The Competitor Overview gives you a quick overview of what units your competitors are currently advertising and some additional useful information such as their rate volatility and historical daily rates.
2. Rate History Analysis: Pay Attention to the Trends
Deep-dive into your market's rate trends and compare these to your own. Quickly see what units need your attention and whether your competitors are undercutting you or pricing their units higher.
In this example, the owner of this self storage facility has consistently priced their 10×10 non-climate controlled units at a significantly higher rate than the rest of the market over the last 30 and 90 days. While there might be a number of reasons why this facility is offering their units at a premium rate, it is also likely they are losing customers who have the option of renting a 10×10 unit for much less.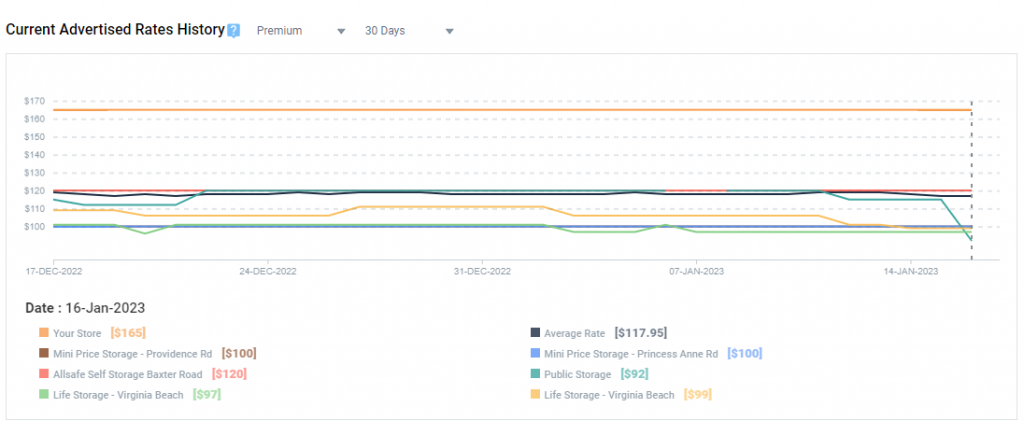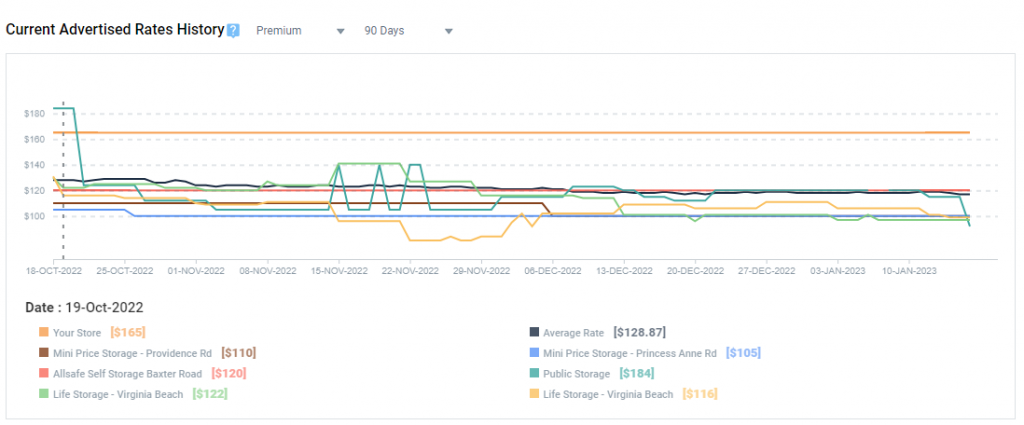 As the pricing decision maker, unless you have a way to track trends like shown above, you are missing key information to help you optimize your rates.
3. Automated Reports: Save Time!
In 2023, many self-storage operators are focusing on automating key functions to run their business more efficiently and effectively. While you might still rely on the human element to make decisions on your rate adjustments, this doesn't have to be a time-consuming task nor does it have to be ad hoc. With OPTIMIZE you have several tools at your fingertips to stay on top of changes in your market.
Alerts
Get alerted whenever a rate change happens which can impact your rates.
Do you need to know when the average rate for a unit goes up or down? Do you want to know when a specific competitor makes a rate change to a specific unit type? Set these alerts directly from your OPTIMIZE dashboard.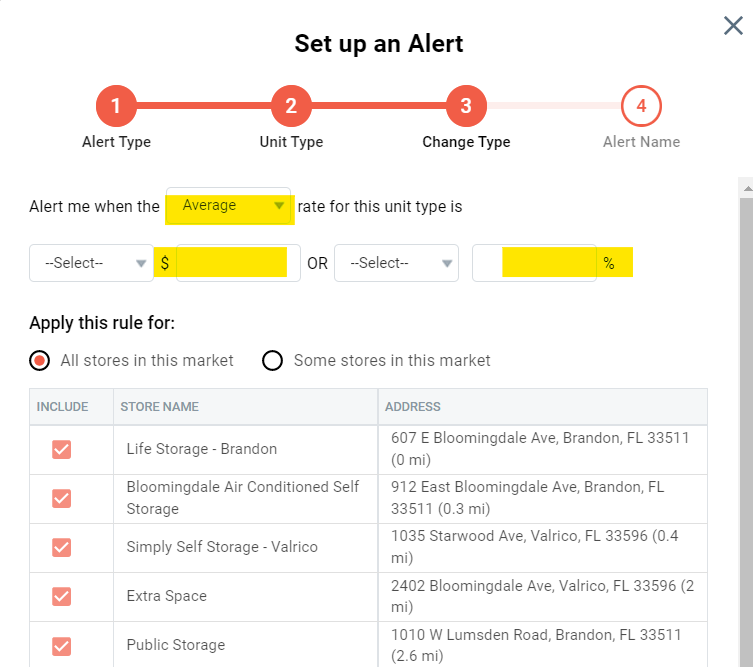 Automated Competitor Reports
Unless you have implemented a revenue management system, you are likely still dependent upon some level of tracking and reporting to make your pricing decisions. These reports can be time-consuming and prone to human error. Automate Competitor Reports by scheduling them through OPTIMIZE. These reports are emailed directly through your inbox, without any need to log in to your dashboard.

Daily Rate & Inventory Changes Alerts
Schedule a summary of today's rate and inventory activity to be sent to your email. The Market Activity Report shows you all unit types and whether a rate change occurred and how significant the change was. It also shows any units that might have been added or removed from a website in the last day. This helps you react faster to any changes that might impact your store.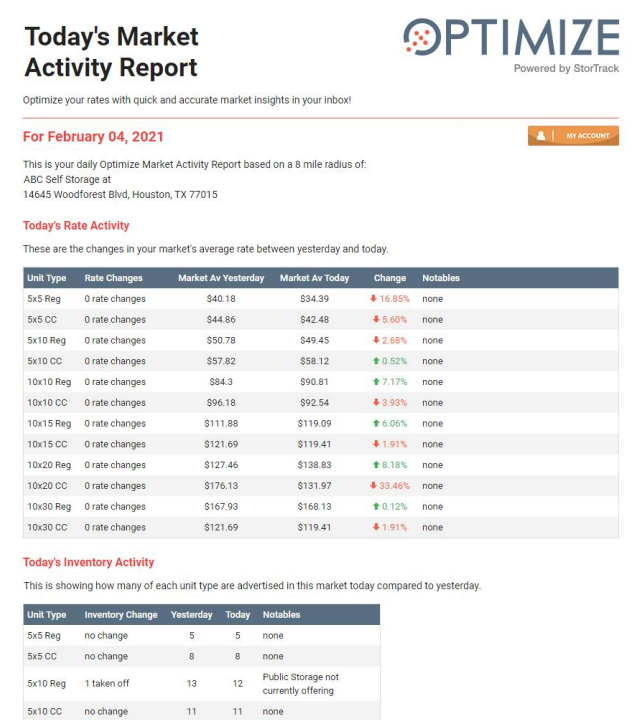 OPTIMIZE is dedicated to offer new features that help you get the complete market picture that will benefit your business. Is there some specific data need that is not being met at the moment? Write in and tell us about it. If enough people think it's helpful, we will introduce it. We're placing you at the center of our product development!

Not yet an OPTIMIZE user? Sign up for a 

FREE trial

 today!
What's your reaction?
0
Smile
0
Shocked
0
Cool
0
Sad
0
Laugh