StorTrack's Explorer platform offers a number of market metrics to help self-storage operators, developers and investors evaluate the viability of a new investment. Amongst many determining factors, one of the first things investors look into is the existing supply.
Explorer helps you evaluate every single store in the market, offering you information on the facility type, property history, ownership, unit offerings, marketing activity and more. All of this information is available to Explorer users with an Unlimited plan, or for 30 days with the purchase of a Market Report.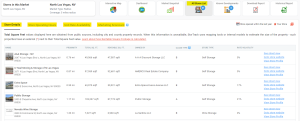 Store Details
Part of the process of evaluating a new market is understanding who your competitors are. How many are in the area? How close? What type of operators are they? Are these Class A facilities?  Explorer helps answer these questions within a quick snapshot under the Store Details page.
Here you will see an overview of all stores in the market with location details as well as property size. Note, for most properties, StorTrack has identified a verified source (ie. a local government agency, press release, etc.). In instances where a verified source is not available, StorTrack's research team uses mapping tools or internal models to estimate the size of the property.
Store Profile
Explorer also offers property records if the information is available publicly. This includes details on Property (such as size, year built, last sold, zoning data and more), Tax information (tax amount, assessed land value, etc.), Debt which includes loan information, Transaction History, Ownership and Management information.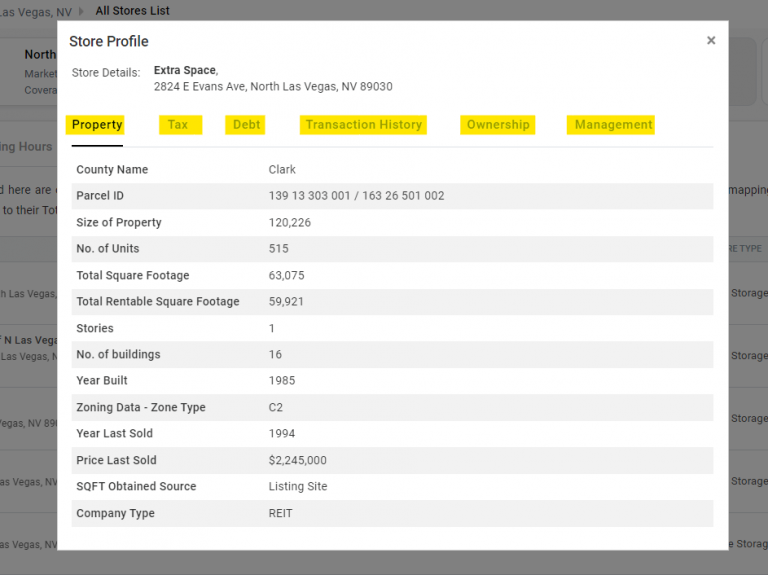 Store Operating Hours
Explorer also provides store operation hours for every day of the week – these include both Access and Office hours if available.

Unit Rate Availability
At-a-glance, Explorer shows you which units (of the most common unit types) each store in the market is currently advertising, has never advertised or has advertised in the past but not currently.

Marketing Scorecard
The stores' online marketing activity offers you insights into how aggressive or passive they are. Where are they concentrating their marketing efforts? Are they showing up within the top web results? Which ones have an efficient website making it easy for renters to reserve online? Explorer scores each store, and the market as a whole, on their marketing efforts.

Explorer is StorTrack's market analysis platform for self-storage operators, investors and developers. Explorer is available for the evaluation of any primary, secondary and tertiary market in the US, Canada and the UK.

Try Explorer now for FREE!
What's your reaction?
0
Smile
0
Shocked
0
Cool
0
Sad
0
Laugh